Round Aluminium Dishes with Tabs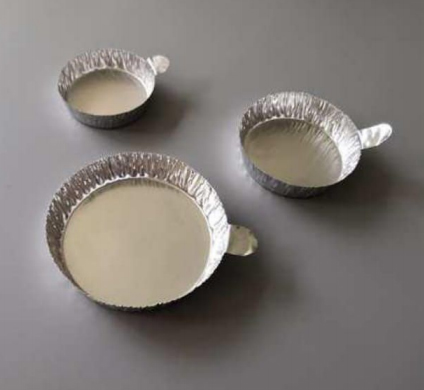 Evaporating dish, weighing dish, is ideal for general-purpose weighing, dispensing, storage, food processing, evaporating, or dust cover. Made from light gauge aluminium, no coating and is oil free. Crimped sides for rigidity, sturdy gauge for heavy duty use.
Large Tab for sample numbers, flat bottom to improve sample handling, sides are angled for easy separation.
Material : AI Color: Grey
Item Code

Item Descri tion

WBALRT5014

Small size, Capacity: 30mI, OD 50 x Dep 14mm,
100pcs/inner. Min Order Qnty.10Box's

WBALRT6018

Medium size, Capacity: 60mI, OD 60 x Dep18mm,
100pcs/inner. Min Order Qnty.10Box's

WBALRT7718

Large size, Capacity: 80mI, OD 77 x Dep 18mm
100pcs/inner box. Min Order Qnty.10Box's

Round Micro Aluminum Weighing Boat with Handle

Item Code

Item Description

MWBAL250

Round Micro Aluminum Weighing
Boat with Handle, Capacity: 250uI,
Dim: 11.0mm Dia. x 6.0 mm H
PK:50pcs/pk
Min Order
Qnty.10Box's

MWBAL3500-Rev

Round Micro Aluminum Weighing Boat
with Handle, Capacity: 350ul,
Dim: 13.0mm Dia. x 3.5 mm H
PK:100pcs/pk Min Order
Qnty.10Box's

MWBAL2500

Round Micro Aluminum Weighing
Boat with Handle, Capacity: 2500uI,
Dim: 20.0mm Dia. x 8.0 mm H
PK:50pcs/pk
Min Order Qnty.10Box's